Welcome to our town!  The fastest growing town in Oswego County.  Explore our rich history, enjoy our beautiful waterways, and experience our friendly hometown atmosphere.
Town Of Hastings Officials
1134 US Rt. 11
Central Square, NY 13036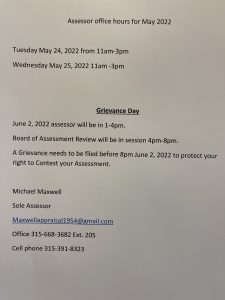 2022 Real Property Tax Bill payments cannot be accepted at the Town after March 31, 2022.  They can be paid on the county website @ oswegocounty.com or at the County Treasurer's Office, 46 east Bridge St. Oswego, NY 13126 starting April 18, 2022. 
Tax/Assessment Rolls and Reports
REQUEST FOR QUALIFICATIONS
TOWN OF HASTINGS
PLEASE TAKE NOTICE, the Town of Hastings is requesting qualifications from qualified consultants to assist in the completion of a Local Waterfront Revitalization Program (LWRP) for the Town.
Responses must be submitted via email to the Office of the Town Clerk, at hastingsclerk@hotmail.com and are due 3:00pm on April 8, 2022. No paper copies will be accepted.
A digital copy of this document is available online at: https://www.hastingsny.net/
The Town reserves the right to reject any or all submissions and reserves the right to authorize all or part of the work requested.
By Order of the Town Board
Dated: March 08, 2022
---
Broadband Connectivity Survey:  http://www.empirestatebroadband.com/
Supervisor
Tony Bush
Telephone- (315) 668-2543 Ext 5
Town Clerk
Shelley Bombardo, Town Clerk
Telephone- (315) 668-2456 Ext 6
Shelby Miner, Deputy Town Clerk
Highway Superintendent
Michael Lewis, Highway Superintendent
Telephone- (315) 668-6191
, Deputy Highway Superintendent
If you have a question for the town supervisor.
Please fill out the email form below.